What does the Sun Tarot Card Mean?
It's time for one of the warmest and most positive Tarot cards – the 19th Major Arcana Sun. It's good in every sense. If you got this card in the spread then the troubles are left behind.
What do you think of the Sun? It warms us up, radiates warmth, giving it to everyone indiscriminately. Life is more fun on a Sunny day than on a cloudy one. Warmth, joy, fun, laughter, sparkle, happiness, success, love, light. It's giving light and warmth to our entire planet. Now imagine that all this will enter your life in a powerful stream or is already entering.
The Tarot card Sun will manifest itself in all aspects in this way. A person enters the best time of his life, its relish, its bloom. He reaches a high level of consciousness, his soul becomes wise, knows happiness. He receives gifts from fate.
Even if you think the gifts are not deserved, just accept them and enjoy. Do not try to analyze why you are so blessed. Your karmic debts have been written off, you are getting rid of them. New horizons are opening up before you. Your desires are fulfilled, your goals are achieved.
The name of the 19th Arcana Tarot speaks for itself. Your life is illuminated by the Sun. Warm and white light is warming you and brings harmony. This is the lightest and most positive card of the Major Arcana.
This card speaks of the most favorable outcome for any question. The Major Arcana Tarot card Sun says that your plans will come true in the best way, that you will forget that you had to wait for their implementation. In this article, we will consider the description and meaning in the relationship of the upright and reversed card, alsotheir interpretation and combination with other cards in the spreads of love, health, career and work.
Names in Other Languages: Il Sole, Le Soleil, Die Sonne.

The occult meaning of the arcana: mind

The physical meaning of the arcana: absolute truth

The Kabbalistic meaning of the Arcana: the axе

Spirit Orb: the newfound void

Goal: liberation, overcoming the darkness within us

Element: Fire

Planet: Sun

Astrological sign: Leo

Places: fertile, productive land; wealthy firms; a well-stocked store; deans and administrations in higher educational institutions; elegant apartments.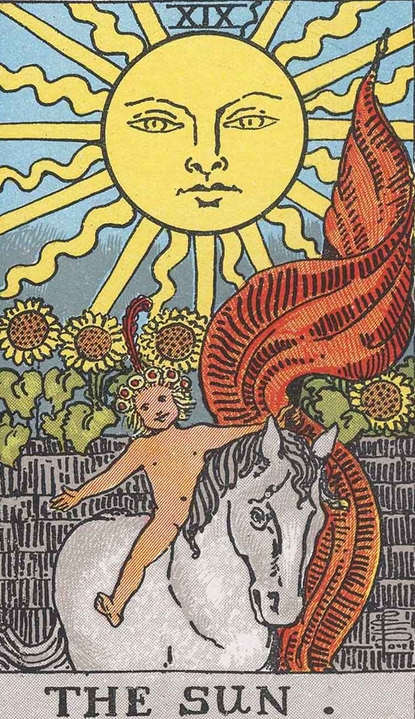 Depiction
The card depicts a large Sun with a face. We also see the symbols of the Sun – four Sunflowers. In the background is a wall. In the background is a boy riding a horse. His head is crowned with a wreath of flowers and feathers, in his left hand he holds a red flag.
(For a detailed depiction, analysis of the Symbols and all Elements of the The Sun Tarot Card, click here)
Meaning of the Card
You have reached a high level of consciousness. You have a rich, wise soul, and now you know what happiness is. You gave birth to offspring, raised a tree, and killed the snake. You understood what your purpose is, paid off your karmic debt and can now help others in this pursuit. Be kind to them.
The Sun is one of the best cards in the deck. When answering almost any question, it gives a favorable answer. As a rule, it talks about good health (recovery), the well-being of children, good luck in business. Sometimes it confirms the indication of the birth of a child. And even in a reversed form it retains its meaning, except that it indicates a light cloud that has run into the Sun, but this cloud will soon dissipate.
Because the Sun goes around the heavenly circle in a year, this card may indicate a time period of one year.
Now you can see your path clearly. What you have worked so hard on is ready to bear fruit. You may even receive gifts you didn't deserve and might not have expected. Do not analyze them, do not question them, do not break into small parts, trying to understand their real meaning. Just accept and enjoy them.
You have worked very hard. You deserve to enjoy what you have earned and what you received as a gift. Take some time to at least taste the fruits of your labor. There is nothing wrong with being proud of your achievements and enjoying the results of your work. If until now you did not know this simple truth, then now is the time to learn it: you do not live in order to work. You work to live.
The Moon shines with reflected light, it is not bright enough to illuminate hidden knowledge. But the Sun is a source of light and warmth, illuminates knowledge, gives understanding, clarity and happiness.
Halfway between Heaven and Earth, the Sun serves as an intermediary between God and humanity. It is simultaneously the lowest aspect of the divine and the highest aspect of the mundane. The Tarot card of the Sun symbolizes the transition between the visible light of this world and the spiritual light of the world to which you aspire. If you are capable, with a childish heart, wise in your innocence, simplicity and readiness to enjoy life, to accept the gifts of the Sun, this will be the next step towards the divine.
This is not a prescription to stop using the mind! Not at all. Children are constantly learning. This is, in fact, a prescription to follow the instructions not only of the mind, but also of the heart. You receive a huge gift. What you have learned so far allows you to simply enjoy yourself without getting into introspection.
Perhaps the lesson taught here is no less difficult to apply in practice than Temperance. Throughout all the previous stages of your quest, you had to strive for a very important goal and achieve it. The Sun card teaches that sometimes there is a need to stop and breathe in the scent of roses. You are allowed to enjoy what you have learned and achieved!
As a midpoint between the divine and the mundane, the Tarot card Sun is an allegory of the seeker's self-identification and his joy to live in the here and now, as well as the hope that life will move to a higher level of being.
Positive Aspects of the Card
Improvement and development, enlightenment and awareness, knowledge and experience, love and friendship, successful union and childbirth, successful association and joint project. Fun, success, love of life, strength, liveliness, joy, understanding, warmth, growth, fame.
Negative Aspects of the Card
Cruel truth and reality, self-doubt and fear, insolence and arrogance. Self-love, ambition, selfishness, a tendency to violence, simulated benevolence.
The Main Meanings of the Card In an Upright Position
Key Words and Phrases
Vital energy. Pleasure. Ambition. Statement. Finding strength. Male energy. Time to take responsibility. Favorable development. Illumination. True. Logics. Clear thinking. Heat. Friendship. The power of positive thinking. Pure rational thinking. Joy. Satisfaction. Creative self-expression. Hope. Enrichment. Self-control. Blessing. Spiritual Victory. Proclamation. Manifestation. Possibilities. Energy. Spontaneity. Creative inspiration. Public recognition. Celebration. Good health. Courage. Happiness. Wealth. Rationality. Academic honors. Scientific achievements. Inventions. Marriage. Children. Emotional well-being. The dawn of a new day. Summer. Hot weather. The joy of being outdoors. Birthday. On a clear day you will see everything. You light up my life. You are my Sun. Life is Beautiful. Everybody had a great time.
The main meanings of the card in an upright position
A world of light and joy;
Clear mind;
End of the stage in life;
Revival;
Personal transformation;
Success, positive achievement of something;
Shared happiness;
Prosperity;
Efforts will bear fruit;
New ideas for the future;
Unleashing creativity;
Joyful work;
Warm, friendly atmosphere in the team;
Awakening, flowering and ripening of our solar nature (self-knowledge, self-awareness);
Vacation, trip, outdoor recreation;
Warm relationship with a partner;
Generosity, lavishness, kindness;
Trust in people;
Material well-being;
Confidence in the future.
Situation and Advice
A ray of Sunshine will break into your life. This is a time of hope, joy, celebration, success, optimism, achievement, luck, health and happiness. Time with good friends or kids pays off. Students will pass the exams successfully. You will withstand all the trials in life with honor. You are capable of making conscious, rational and deliberate decisions. You feel full of vitality and health. The literal interpretation of this card suggests a trip or vacation, outdoor activity, or a day at the beach.
Persons designated by Upright The Sun Tarot Сard
Children. Babies. Fathers. People who love to Sunbathe. Inventors. Cheerful people. Decisive people. Leaders. Kings. Outstanding people. Scientists. Academicians. Apollo. Courageous men. The one who gives life and sustains it.
The Main Meanings of the Card In a Reversed Position
Key Words and Phrases
Positive values
Success is delayed, but it will certainly come to you. Small pleasures. Not quite what you expected, but still happiness. Partial success. You are unaware of your success. The Sun card has such a positive meaning that even in a reversed form, it does not lose it. The Sun indicates success, but emphasizes that it is late and will not be as turbulent as when the card appears in the upright position. A reversed Sun card can also indicate a desire for success while achieving the wrong goals. It canalso speak about your desire to prove yourself and achieve success, although you do not deserve it. The desire to live in accordance with generally accepted norms.
Negative values
However, in negative spreads, the Sun card in a reversed position may not have such a radiantly joyful interpretation. Failure. Uncertainty. Misfortune. Foggy future. Problems with children. Marriage problems. Gloom. Losses. Loneliness. Depression. Unclear thoughts. Feeling underestimated. Disagreement. Misunderstanding. Cancellation. Hopelessness. Lack of purpose. Disease. Poor health. Sunburn. Broken commitments. Problems with conceiving. Wrong opinion. Learning disability. Problems with exams. Approaching darkness. Night.
The main meanings of the card in a reversed position
Loss / failure in business;
Relationships are in danger;
Defeat;
Collapse of plans;
Unsuccessful marriage;
Demonstrative behavior;
Unclear future;
Difficulty in contact with people;
Lack of vital energy;
Stagnation in professional affairs;
Minor problems.
Situation and Advice
Even in a reversed position, the Sun card remains positive to some extent. Perhaps you are faced with the fact that the success of your enterprise is lagging for some reason or you need to overcome some obstacles on the way to it. There is a possibility that your wish is unfulfillable or simply unrealistic. You can only achieve partial success.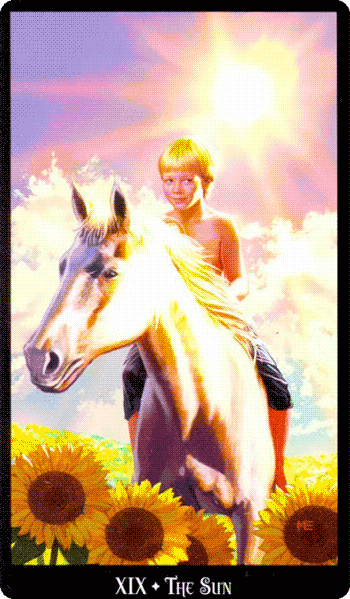 Even if you get what you want, you will not feel the expected satisfaction. Sometimes the Sun card draws attention to the fact that you have allowed success to cloud your head and do not notice what is happening. Do you want to gain recognition without doing anything that could lead you to success? Are you letting your successes go round your head?
In negative spreads, a reversed Sun card can indicate minor problems that annoy you, but are not critical. Perhaps for a period of time you will feel as if a dark cloud obscured the whole sky for you. You may feel that you are not loved or appreciated. A pessimistic mood is detrimental to your health. Perhaps now you are worried about pregnancy or communication with children, experiencing difficulties in marriage or a love affair. Students during this period may not pass exams as well as they would like. Or maybe you are depressed by the experience of your own failure? You may be suffering from minor health problems. Does it seem like your head is filled with only negative thoughts?
Persons designated by the Reversed Sun Tarot Сard
Those who are eternally in a gloomy mood. Ignorant or boastful people. Those who are only trying to create the appearance of action. Pessimists.
In the Spreads
19 Arcana in spreads is always a positive sign. This is an open, unambiguous card. Even upside down, it does not lose its basic meaning. Let's consider its detailed meaning in answers to various questions.
In an Upright Position
This is a very positive Tarot card. It signifies joy and happiness, as well as success, positive achievement and good health. Your relationship will be blessed with shared happiness and prosperity, and your efforts will bear fruit.
In addition, it is also the time to explore your creativity and positive new ideas for the future, as they will bring prosperity when you get in touch with the life-giving and nourishing power of your inner spiritual Sun.
The Tarot card Sun in a straight position is the best Arcana in any fortune-telling, be it a relationship with a partner, questions about health or finances. The card always means growth, happiness, favorable events, prospects.
The Sun Tarot card expresses love of life, joy of life, warmth and confidence in the future. In our minds, it corresponds to the forces that help us gain clarity, overcome doubts and deep fears, and overcome delusions. In addition, the Sun personifies youth and such freshness of feelings, as if a person was born anew. This is the bright, Sunny side of life. On a deeper levelit- advises to overcome your dark side, to let our solar nature open up, to recognize our "shadow I" in ourselves and bring it to the light.
In a Reversed Position:
At the moment, your future is vague and unclear. You may suffer serious loss or fail in your endeavors. Your relationship is in danger. Your engagement is likely to break or your marriage may be difficult. Now you need to pause, assess your life realistically, and ask yourself in which direction you are heading.
Reversed Tarot Arcana Sun does not carry any bad energy. The main meaning is retained. The reversed position just indicates the presence of minor problems or obstacles that inhibit your development. These, however, will quickly clean up by themselves.
In the reversed position, the Arcana does not completely change its positive quality. It may indicate partial success or that it will be achieved after considerable effort. Hopes and dreams are not fully realized or not as quickly as you would like.
In a Personal Spread
If you see the Tarot card Sun in a personal scenario, it indicates that nature has endowed you with amazing qualities. This applies to both your exterior appearance and to the inner "light" that you give to others. Light forces invariably patronize you. Even in the most difficult periods of your life a "ray of light" invariably illuminated the "dark kingdom" for you.
In the Spreads for Different situation
In an Upright Position:
In the spreads for the situation, the Tarot card Sun means hope, a favorable solution to the problem, success. You will pass the test with dignity and receive a prize. Your decisions will be correct and conscious.
It can also predict an imminent vacation, rest or trip.
Achievement of goals, well-deserved reward, safety. It's time to achieve your goals and plan new ones.
In a Reversed Position:
In questions for a specific situation, the 19 Arcana in a reversed position means that you will achieve your plan, the problem will be solved, but this will happen with some delay. Minor difficulties are possible, and you have to make an effort.
It may also indicate a partial realization of the desired goal. What you dream about will come true, but not fully.
Success and happiness are delayed, but this is temporary. You just have to wait and everything will come true. Minor pleasures of life.
In the Spreads for Relationship
In an Upright Position:
On love questions, the drawn Tarot card Sun will mean cloudless happiness and harmony. You feel good with your partner, and he feels good with you. You trust each other and dream of your future together. Honesty and sincerity reign in your relationship. 19 Arcana often falls out as a sign of an imminent proposal, a wedding, a life together or the birth of a child.
When divining on a partner, it symbolizes his sincere intentions and deep bright feelings for you.
Happiness in a couple, wonderful understanding, friendly disposition, mutual love.
The Sun symbolizes the final overcoming of a difficult crisis in relationships and the onset of a carefree and joyful stage in life. The card promises a happy marriage, the birth of a child, as well as the successful implementation of plans, albeit not quite soon. New relationships bring a sense of unity, complementarity and harmonization of life.
In a Reversed Position:
The Sun Tarot card in a reversed position means that there can be short separations, minor disputes, and meaningless quarrels.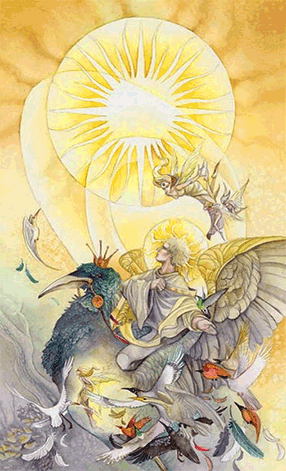 The rupture of a happy union, disharmony in the family, distrust, exaggerated demands of partners to each other, unpleasant family chores. However, all these negative manifestations of life are temporary, provided that you move forward with faith in yourself and your own strength.
The reversed position in the spread for relationship has almost the same meaning as in the upright one, but with less intensity. For example, life together, but without an official wedding, the darkening of harmony by rare quarrels that quickly end. If your relationship now comes to a logical end, you will remain good friends, etc.
It can also mean a short-term separation from a loved one.
In the Spreads for Dates
In an Upright Position:
It is simply impossible to resist you. The whole world is at your feet.
In a Reversed Position:
You are too tense now. Everything is easier than it sounds. Don't dwell on what impresses you.
In the Spreads for Family
In an Upright Position:
Life is good. Someday you will remember these days as one of the brightest pages of your life.
In a Reversed Position:
You seem to have disagreements with your parents or other authority figures. This problem needs to be worked on in order to usefully resolve it.
In the Spreads for Friendship
In an Upright Position:
Your energy and enthusiasm inspire others.
In a Reversed Position:
Something about friendships confuses you. You don't know who you can trust and who you can't.
In the Spreads for Money
In an Upright Position:
You have finally learned to value money, and money begins to flock to you with gratitude.
For finances, respectively, as well as for work, the Tarot card Sun means good money and financial well-being. Your investments will bring profit, there will be opportunities for savings. Perhaps your salary will be raised. This also includes lottery winnings or a sudden new source of income. Good cash flow management. 19 Arcana is one of the best answers to questions about money.
In a Reversed Position:
Don't be stingy. A little generosity to yourself and to other people is just wonderful! You can do this from time to time, depending on the mood.
It's the same for finance. If you work hard, you will get good money. You will have wealth, but only deservedly, thanks to work and efforts.
In the Spreads for Education
In an Upright Position:
You are particularly good at sports and / or applied sciences.
In a Reversed Position:
You are burning with enthusiasm. Slow down as there is a risk of burnout without completing what you started. Analyze yourself.
In the Spreads for Career
In an Upright Position:
In work matters, the 19 Major Arcana Tarot personifies the pleasure of work, good results, development and career, excellent relationships in the team. All that good that can only be in the work. If you have your own business, it will go uphill. If you are a creative profession, you will get success and recognition, etc.
Promotion, bonus, praise, increase in authority and respect of others.
Financial problems subside, turmoil ends, and finally, it becomes clear how to use resources most efficiently. The card portends success in business ventures, in financial investments. In addition, it symbolizes a warm, friendly atmosphere in the team, good relationships with partners, bosses, colleagues, a good aura and the ability to present ideas and considerations in an accessible and intelligible way.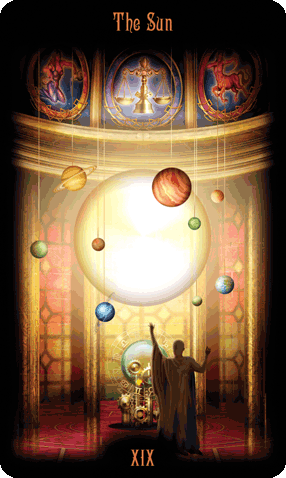 In a Reversed Position:
By analogy with the upright position, the reversed Sun of the Tarot for work means success, but unlike the upright type of card, where everything seems to add up by itself, you will have to make some effort and try. A well-deserved reward will not be long in coming. Career growth will be, but not so fast. Projects are being implemented, but gradually. The work is excellent, but there are still some drawbacks. That's it, everything is fine, but not complete perfection.
Pride and outward manifestation of wealth will not give you authority among colleagues.
To achieve the goal, you will have to work hard and stubbornly. Small obstacles and barriers can interfere with your work.
In the Spreads for Health
In an Upright Position:
Excellent health. The energy that a person shares with others.
On health, the Sun Tarot card symbolizes vitality and vigor, excellent physical and psychological condition. If you are sick, then the 19th Arcana predicts an improvement in the situation or full recovery.
In a Reversed Position:
Exacerbation of chronic illnesses or illnesses that go away quickly.
Reversed Arcana can have a literal meaning – burns, sunstrokes. It can also mean mild depression that will go away on its own or just minor health problems.
In the Perspectives
The Sun is coming to meet you. Joy and success await you. Perhaps you will feel overwhelmed by the newcomer.
Answer to Yes / No Tarot Spreads
In an Upright Position:
Yes, don't hesitate.
In a Reversed Position:
Rather yes than no.
Combinations with other cards
Strengthening
Two of Wands: personal strength, vitality, wit
Six of Wands: approval gained, position achieved
The Tower: enlightenment, rebirth
The World: completion of something, great achievement
Weakening
Five of Pentacles: overwork, fatigue
Six of swords: depression, lethargy
Eight of Cups: fatigue
The Moon: confusion, disorientation, illusion
Arcana's warning
Now is the period when everything is good. Relax and enjoy life, do not think about the bad. You have worked hard, now you can receive a well-deserved reward. Believe in yourself. You can safely start implementing your plans.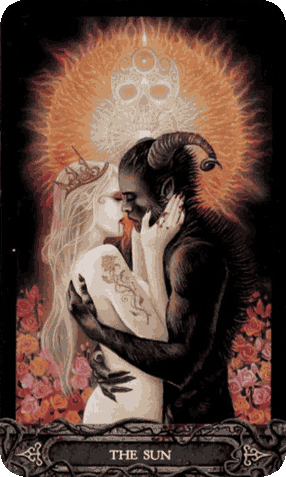 Do not abuse your high position, assess yourself adequately. Don't be overly frivolous. Accept gifts of fate, do not refuse them.
Self-Development Lesson
When we are ruled by the spiritual Sun. We move towards a state of enlightenment and humility. We strive to return to a state of innocence and Oneness in the Kingdom of the Spirit.
Key Ideas
Watch out for good luck, don't miss it, grab it right away. Trust that your Sun will never go out.
Psychological (Personality) Meaning of the Arcana
Type of person in an upright position:
Leader by nature; a realized person, full of vitality and energy; one who deservedly occupies a high position.
The card means a person whose main character traits are generosity, cheerfulness, friendliness. Doesn't lose optimism even in the most hopeless situations. A leader by nature. For many, he is a role model, others are infected with his successes. Of the shortcomings, one can note a tendency to narcissism. He also likes flattery.
Type of person in a reversed position:
Psychopath; a person with suicidal tendencies; a person living in conflict with himself and with his inclinations.
Psychological significance of the Arcana:
You have reached the highest level of self-awareness. You see your good and bad sides. You know how to overcome shortcomings and deepen your merits. You have a rich, wise and experienced soul who has experienced a lot in this and in the previous incarnations. You have known happiness and were able to leave your mark on Earth. You know what is the mission with which you have come to Earth this time, and you do not refuse to fulfill it, because in realizing it, you realize yourself. You have already paid off your karmic debts, worked out everything that you had to work out in this incarnation. Your character did not break under the blows of fate and you did not succumb to trivial temptations. Now you can earn good karma for yourself, and also help others in this. Esotericism calls people like you "Initiate".
Final Advice of Arcana
To be such that others would like to be equal to you. Avoid self-righteousness and demonstration of superiority over other people which are less wealthy and less successful.
In an Upright Position:
Enjoy every second of your happiness.
In a Reversed Position:
If you want to be happy – be it!
Conclusion
The Sun Tarot card expresses love of life, joy of life, warmth and confidence in the future. In our minds it corresponds to the forces that are helping to gain clarity, overcome doubts and deep fears, overcome delusions. In addition, the Sun personifies youth and such freshness of feelings, as if a person was born anew. This is the bright, Sunny side of life. On a deeper level it gives advice to overcome your dark side, to let our solar nature open up, to recognize our "shadow I" in ourselves and bring it into the light of God.

Discover other Major Arcana: