What does the Three of Wands card mean in a Tarot Reading?
Most of the cards in the suit of Wands deal with work, business and creativity. The Three of Wands is no different. It is a card of trade and commerce that symbolizes business opportunities.
The Tarot Arcana Three of Wands is one of the main cards for foreseeing one's future, which creates a solid foundation, personal connections, and foresight.
It is a beautiful card full of optimism and clarity of mind. This could indicate a haphazard business deal, career skyrocketing, stable management decisions, and a good time to gather information.
The Three of Wands is similar in meaning to the Two of Wands, only here we are talking not about intellectual, but about material labor – building a house, buying an apartment, creating a company, etc. In the upright position, it gives a favorable forecast. In the reversed position, it recommends thinking over everything again and, most likely, postponing the plan until better times.
Goal: Perspective, reliable.
Element: Fire
Planet: Sun
Astrological sign: Aries
Depiction
The merchant from the card Three of Wands surveys the horizon. We see his ships approaching. With his right hand, he gripped one of the Three of Wands tightly. He made his bets and now expects a positive outcome, reflecting the hard work put into achieving it.
(For a detailed depiction, analysis of the Symbols and all Elements of the Three of Wands Tarot Card, click here)
The Main Meanings of the Card In an Upright Position
Key Words and Phrases
Busy business. New project. The beginning of success. Favorable early results. Help in making plans a reality. Like-minded people in creative matters. Exchange of ideas. Possibilities. Defining goals for the future. Satisfaction, although there is still further work to be done in this direction. Fresh ideas coming soon.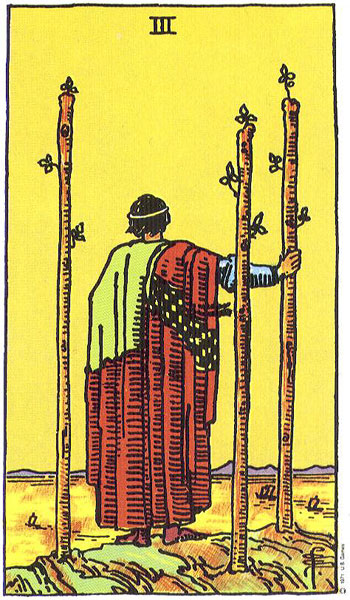 News about work. Teamwork. Negotiation. New project. New job. Dispatch or shipment. Demonstration of their products. Helpful advice. Family support and help. The seeds begin to sprout. The partnership is yielding positive results. Business trips. The ship enters the harbor.
The main meanings of the card in an upright position
help;
solid foundation;
the prospect of a bright future;
vertex;
a strong union full of creativity;
implementation of relations in the future;
freedom from the burden of the past;
material labor;
company;
capture, take possession;
courage, courage;
negligence;
undertaken, difficult;
effort, attempt, temptation;
successful cooperation, success, practical knowledge, audacity;
gain as a result of entrepreneurial spirit and bold initiatives;
the idea takes shape, the concept takes shape;
new beginnings, long-term success, partnership;
successful outcome of the plan, success in business, implementation of plans;
stability, confidence in the future;
cooperation, strong partnerships.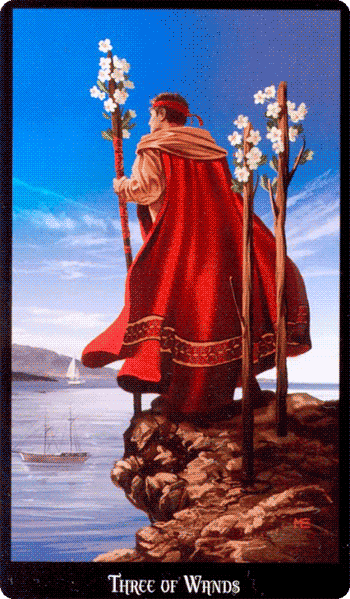 Situation and Advice
Things are going well at work. You have only completed the first phase of the project and still have a lot of hard work ahead of you. You can count on the support of your team and employees. You are preparing for new achievements. On the one hand, you feel satisfaction from completing the first stage, and on the other hand, you cannot wait to start the next stage of work as soon as possible. New opportunities will open before you, maybe it will even be a new job. You will receive business related news. You have a business trip or close communication with work colleagues. This is a good time to publicize your creative achievements. You may have to transport something (goods, equipment) over long distances. Someone will offer you help or give you good advice. If you want to lay a solid foundation for further business development, you need close cooperation with like-minded people.
Persons designated by Upright Three of Wands Tarot Сard
Merchants. People who do business. Manufacturers of goods. Companions. Authors. Members of corporations.
The Main Meanings of the Card In a Reversed Position
Key Words and Phrases
Excessive self-confidence. Unrealistic plans. Slow development of the project. Castles on the sand. Ignorance. Excessive pride that does not allow you to accept a helping hand. Unsuccessful efforts. Delayed action. Obstacles in a creative project. Creative stagnation. Timidity. Disappointment. Objectives that are difficult to achieve. A promising project doesn't pay off. The ships are not coming. Confrontation. Negligence. Disinformation. Stubbornness. An unnecessary union. Disappointment in achievement. Overthrown from a pedestal.
The main meanings of the card in a reversed position
negligence;
trust in an unreliable person;
sprayed;
excessive pride / arrogance;
it is better to postpone your plans until better times;
achievements pass by;
lack of cooperation;
lack of energy, materials for business;
a break in misfortunes, torment, hardships and work;
end, termination, non-continuation, postponement;
calmness, influence, mediation;
inconsistency in joint actions leads to a crash;
problems in commerce, misdirection of efforts;
self-doubt, weakness, doubt, hesitation;
failure in business, the implementation of plans is postponed;
losses, instability, problems with partnerships;
mental or physical illness.
Situation and Advice
For some reason, you cannot "get the spoon to your mouth". Perhaps no action followed the offer of help, or it was not in your best interest to accept the offer.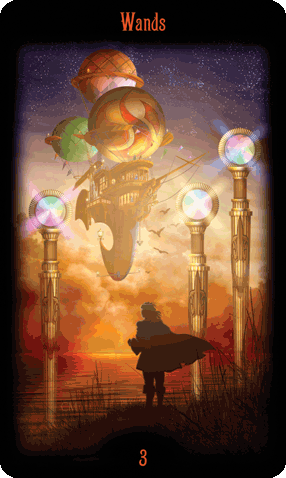 Most likely, the project that you recently started is not developing according to the scenario that you planned. Perhaps your plans are unrealistic, or you do not have enough energy or funds to bring your plans to life. Maybe you set the goals too high? Are you afraid that you will be confused if you reach them? Are you not cooperating with anyone? Do all of your team members have the same goal? Perhaps someone you admired disappointed you? The person who was the object of worship was thrown down from the pedestal erected for her by the questioner.
Persons designated by the Reversed Three of Wands Tarot Сard
Timid people, far from reality. Indifferent and callous personalities.
In the Spreads
When the Arcana Tarot of the Three of Wands appears in the spreads, it's time to develop something in which a lot of effort has been invested. This is not a time for complacency. You should expand on what you have been working hard on lately. In general, Arcana has an extremely positive attitude towards work, which means that your efforts are seen, appreciated and respected.
Three is a strong number based on the material world (three dimensions). The Three of Wands reminds that the person is currently in the cycle of his life. It says that you will achieve your goals if motivation outweighs the feeling of failure.
In an Upright Position
The Three of Wands symbolizes self-confidence, initiative, success, the presence of active vital energy in a person.
This card unambiguously indicates that everything that happens is in harmony with the intentions of fate, and the problems that arise are solved if you act not impulsively, but thoughtfully and diplomatically.
The Tarot card Three of Wands in the upright position means the beginning of a very productive period, especially when it comes to new career opportunities or new commercial ventures. Any projects that require creativity, ingenuity and initiative are carried out successfully. The reward for them does not come immediately, but much later. Success is facilitated by a partner who offers practical help and knowledge.
The Three of Wands card indicates that good behavior in your business or enterprise will lead to financial growth. You can also get help from your consultant or business partner. The Three of Wands indicate that collaboration, like mature decisions, is the key to successful action. In its most general form: success in business or trade, negotiations. A solid foundation has been laid or can be installed.
All the positive changes predicted by the Three of Wands relate to the business sphere of life, to all developments and plans related to career, study, work and business, as well as large household projects, such as renovating an apartment or building a summer house.
The card personifies the positive outcome of any events, and also predicts a favorable atmosphere for accomplishments.
The person will achieve even greater heights than he did until now. You need to live life to the fullest and hope for better things. The card portends success, a strong position, a solid foundation. It symbolizes the achievement of some important point or intermediate point, from where you can safely go forward and not be afraid.
Whatever the situation, the card tells that everything will be fine. If the person had a black streak in his life, then the dropped Three of Wands personifies the end of disasters. Sometimes the card can be interpreted as preparation for an important step in life for the sake of the future.
In a Reversed Position:
In a reversed position, the Three of Wands Tarot card speaks of an unreasonable haste, which can make the person slip past the desired goal without even noticing it. In addition, the Three of Wands may indicate good opportunities missed out of arrogance and stubbornness, or problems due to inconsistency in actions.
The reversed Three of Wands signifies a bad start, missed opportunities and recklessly wasted talents. New enterprises face difficulties after the first successes. Problems may be due to personal differences, unrealistic ambitions of the querent, stubborn refusal to help or misdirecting efforts.
Another meaning of the reversed Tarot card Three of Wands: your problems are solved, the difficulties are behind. You can expect disputes and disasters to end. For a while, you will be assured of a quiet life.
In the reversed position, the Three of Wands Tarot symbolizes the failure of a new business project, the associated emotional turmoil and financial problems, as well as difficulties with colleagues and partners.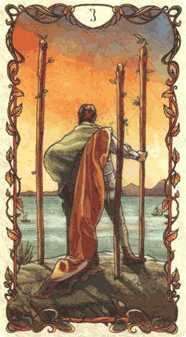 Arcana says that the plans of the querent have little hope of being realized, or their implementation is postponed indefinitely. Perhaps the reason for all these troubles lies in the preparatory stage: you did not think over your project well enough or you missed something. In addition, the Three of Wands of the Tarot may indicate the fact that you lack confidence in yourself or the ability to get along with people.
One way or another, this Arcana foreshadows that the business that the querent has undertaken will bring more disappointments than victories. A period of difficulties and problems awaits ahead that will have to be solved.
The person does not commit new actions and does not act decisively, because he does not feel reliable support and does not see prospects in the future. Such an interpretation is possible as the presence of ulterior thoughts, ulterior motives, outside help.
The gloom of a reversed card means treason, betrayal, duplicity, addiction, or a dirty trick. Stagnation or uncertainty, broken plans, neglect of the enemy, lack of coordination of cooperation, bad trip.
In the Spreads for Different situation
In an Upright Position:
Three of Wands means that your plans are already being implemented. Consider supporting your plans and increasing your potential. Everything is going smoothly and as planned.
In a Reversed Position:
In a general sense, in any situation, the reversed Three of Wands refers to the embodiment of desire. Think carefully about what you really want and why. Most likely, you will be faced with a sudden insight and understanding – about yourself, about other people, about the world. Generally, you can trust this new knowledge.
In the Spreads for Relationship
In an Upright Position:
In love, the Arcana can predict the unwanted inclusion of someone else in your relationship. It can sometimes mean that you and your partner are doing well as a team. However, be careful that things don't get too outdated and mundane. Add zest to your relationship.
In fortune telling about love and relationships, the Three of Wands card indicates promising prospects, but at the same time it can mean their fuzziness, uncertainty. Often, the card speaks of the need for careful preparation for large-scale affairs and events, indicates the likelihood of long-impending changes: marriage, preparation for the birth of a child, moving to a common house or other important events.
In a Reversed Position:
Recent difficulties in love relationships may end. If you are a person who is looking for love, then someone might try to establish a relationship with you. As the saying goes, "don't judge a book by its cover". If you are looking for love, give people a chance.
The card can be interpreted as problems associated with one's own stubbornness and unwillingness to follow the reasoning or reasonable advice of experienced people. Sometimes it indicates disappointment both in the relationship itself and in the partner.
In the Spreads for Dates
In an Upright Position:
You are ready to put a lot of energy into the relationships that are important to you. Determination will bring positive results.
In a Reversed Position:
Are you working on relationships a little bit? If not, think about why and make a decision. If you cannot make your partner happy, let him or her away from you. Let that person find happiness with someone else.
In the Spreads for Family
In an Upright Position:
Your family treats you like a wise soul. Your prudence and sound judgment are simply amazing.
In a Reversed Position:
You shouldn't be so distant from your family. Your discernment can help your relatives.
In the Spreads for Friendship
In an Upright Position:
You can keep looking for new friends and at the same time maintain the commitments of old friendships. This is not a situation where you have to choose between the old and the new.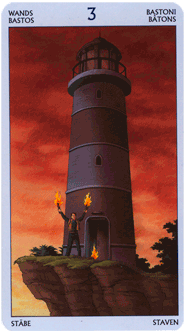 In a Reversed Position:
Don't be too proud. Ask for help, advice, or just a detailed conversation. Sharing a problem with a friend is not a sign of weakness, but of strength, because it takes strength to overcome shame and pride.
In the Spreads for Money
In an Upright Position:
Things are on the rise, financially successfully. Hard work is already in the rewarding process. However, don't overdo it, put some finance aside for a rainy day.
In a Reversed Position:
As in the upright position, the reversed Three of Wands may indicate that the situation will soon change financially in a positive direction. It will definitely involve working with other people. Don't try to do everything yourself. If you have financial disputes, it is best to find a good consultant.
In the Spreads for Education
In an Upright Position:
You can't build a city in a day. Success in exams requires steady, regular work and self-discipline.
In a Reversed Position:
There is no quick or easy way to get a perfect exam. Either you work for a long time, but do not strain too much, or you prepare quickly, but at the risk of overwork. Don't count on other people's cheat sheets.
In the Spreads for Career
In an Upright Position:
The card speaks of accurate, law-abiding business conduct, conscientious performance of their work duties, satisfaction from the work performed. Among other things, the Three of Wands means the steady development of the conceived and obvious progress.
The meaning of the card in the context of a career is pretty obvious and straightforward. Just like the 2 of Wands, a Three of Wands can mean that you need to work with others as a team. Arcana also appears when you collaborate with many people on a project. Another meaning of the Three of Wands card is that you must move to a higher level of activity.
In a Reversed Position:
The Three of Wands in a reversed position is a thrust and a willingness to take risks. Fantasizing, sometimes coupled with the belief that all this will certainly come true, is the reason of of which the person may begin to act in the wrong direction, wasting efforts, time and money. In addition, the reversed Three of Wands can symbolize the difficulties that arose after the first successes and, as a result, complete unpreparedness for them.
The reversed Three of Wands indicates that the querent begins to take important steps in his activities. Perhaps he is going to start his own business. Good news can be expected about what he is doing. Do not hesitate to collaborate with others, let your abilities and talents be obvious to people.
In the Spreads for Health
In an Upright Position:
Your wellbeing efforts are starting to pay off. Feel free to consider alternative treatments or solutions to health problems, of course, within reason.
In general, the state is favorable. However, if there is a disease, the card speaks of its rapid development. Consistent diagnostics and comprehensive treatment are required.
In a Reversed Position:
Your future health indicators will be better than expected. You are on the right track when it comes to taking care of yourself. Continue to work. You have "support", just reach out.
The Three of Wands indicates sluggish processes that turn into chronic ones.
Answer to Yes / No Tarot Spreads
In an Upright Position:
Yes
In a Reversed Position:
Yes. Rarely, it can give a negative value that can change.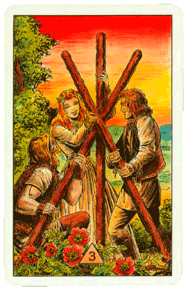 Self-Development Lesson
Don't congratulate yourself on your success until you've tracked every step of your venture towards completion. Prosperity requires a solid foundation. Use your abilities correctly and build your home on a solid foundation.
Type of person in an upright position:

The card means a smart, business-like, sociable person. One way or another, he makes friends with those with whom he works. He avoids in every possible way the idle communication, conversations about nothing. Decent, conscientious, you can trust him.
Type of person in a reversed position:

It means a person who can't complete anything, no matter what he starts. Promises a lot, but does almost nothing. In work collectives, he creates the appearance of work. In fact, there is more benefit from his absence than being present at the workplace. Silly, lazy, unreliable.
Arcana's warning
There is a possibility that you need to work on relationships, even those that are painful. This approach is necessary to complete what you set out to achieve. Even if in a general sense the card is usually positive, it can carry negative energy. Especially if you have to work with people that you don't like.
Final Advice of Arcana
Advises to act quickly and powerfully according to your ideas or desires. This card indicates the right time to rely on intuition.
In an Upright Position:
Work tirelessly. Seeking cooperation with other people in any way. Individualism can turn against you.
In a Reversed Position:
Set sail freely. Fish seeks where it is deeper, and man – where it is better. Therefore, you need to make changes in your life without looking back at those who remain.
Conclusion
The Three of Wands of the Tarot indicates problems that can be solved if you act sensibly, if you remain calm, reasonable, dignified. Whatever difficulties arose earlier, the questioner is able to overcome them. Don't act impulsively, you know what to do. Use your experience and common sense. The Three of Wands Tarot card says that if your difficulties were caused by your own mistakes or even a feeling of inferiority, sound and responsible actions will allow you to cope with them. If your problems are caused by interference or opposition from others, you can also resolve them by acting firmly and decisively. You can also count on help and advice from friends.

Discover other Minor Arcana: